Why Sell Your House Through One Percent Realty
$7.950 versus $17,000 - the savings are HUGE!
You want full real estate service with an MLS® system listing from a professional salesperson at a lower commission – that's One Percent Realty East Inc. We provide you with full real estate services at a reduced commission rate of $7,950 for homes under $700,000. $3,500 of that $7,950 flat fee goes to the buyer's sales representative. Houses over $700,000 are 1% of the list price + $950, with the flexibility to offer more commission to the buyer's sales representative, if you choose. We have full cooperation from other real estate sales people who sell approximately 80% of our MLS® system listings.
Our fully licensed sales proffessionals are members of their local MLS® real estate board enabling them to properly market your property both on REALTOR.CA and their local MLS® system for maximum exposure to potential Buyers. Our real estate agents provide the same real estate services they would if they charged you a higher real estate commission, the only difference is they charge you less, way less. It's the best deal in town, why pay more to sell your home?
There has been a lot of recent talk about the Competition Bureau & the recent changes to the MLS® rules
Its time to shed a little light on this, at least from our perspective. The new MLS® rules allow for a REALTOR® to do what is referred to as "mere-posting" a listing onto the local MLS® real estate board. They will charge some sort of nominal fee for this, probably around $500 or something. The idea here is to allow people to market their properties themselves, (For Sale By Owner) and do all of the work themselves.
From where we sit, this is probably a good thing. It gives consumers choices, which they previously did not really have. Now as we see it, consumers have 3 viable scenarios: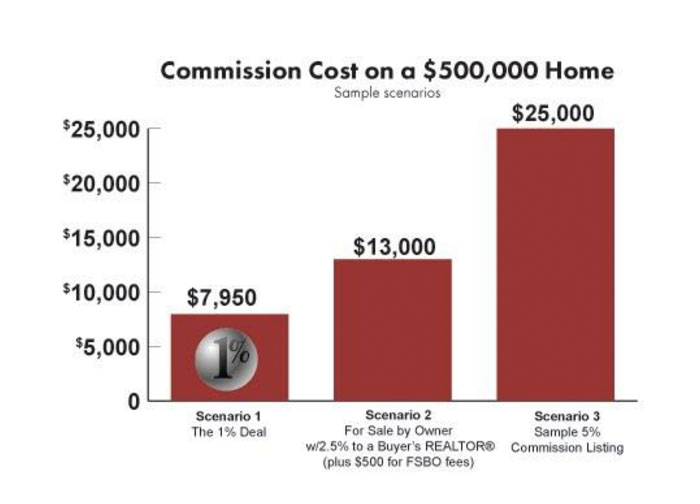 Scenario 1 - Sell through One Percent Realty East Inc. for $7,950 for this same $500,000 home, with all the services and exposure that you would receive from higher commission brokerages. This fee also includes payment to the buyer's sales representative (usually $3,500). We do open houses, handle the showings, negotiations, and paperwork that you would expect from any full service real estate company. In short, the services and exposure are the same as you would get from option #1 above, but for far less money.
Scenario 2 - Sell it yourself. You can now put your home with a local real estate board that operates an MLS® system and have your home exposed with other listings, and deal directly with the public or REALTORS® who may show your property. Worth noting is that since your property is on a MLS® system you will have a reasonable chance of dealing with a buyer's agent. These buyers agents expect to be paid. Most likely, they will be looking to the Seller to pay them something, probably at least half of the fees discussed above (the $500,000 home). So again, if we use the $500,000 home as our example, a buyer's agent in Ontario often will be expecting to receive approximately 2.5% or $12,500 to sell your property plus an additional $500 or so for the FSBO company's upfront listing fee. The FSBO company might also charge you a success fee if you do sell it, and/or try to upsell you for additional services as well.
Scenario 3 - Sell it through the traditional "higher commission companies" who will place your property with a local real estate board that operates an MLS® system and provide full service real estate. Depending upon what your home is worth, this will cost a fair amount of money, though it will vary across the country. A $500,000 home can typically cost $25,000 (assuming a 5% commission) in Ontario through a company like this, although commissions do vary in the marketplace.
So if you can have the full services of our professional salespeople for only $7,950, why would you not just leave it to a professional?
Make no mistake. Our business model would not have worked in the pre- internet era.
Prior to the Internet, Buyers used to get in the back seat of a real estate agent's car and go on a tour of homes. The agent would have his/her MLS® catalogue of homes which he was not allowed to give Buyer's a copy of. REALTORS® controlled MLS® information. This is simply not the way it happens anymore.
Nowadays with the Internet, consumers are empowered and in much more control of their new home search. Over 85% of Canadians who search for a home start their search on the Internet. Whether Buyers are looking for properties themselves on REALTOR.ca, or being automatically emailed MLS® properties directly from their REALTOR®, or other house hunting activities, nowadays Buyer's often know as much or more about their particular market and the homes for sale in it as their REALTOR® does.
It is no slight on other agents, but the buyer basically has access to MLS® and can check www.REALTOR.ca 20 times a day, and their agent will not be doing that, no matter who they are. These changes in technology and Buyer behaviour created the opportunity for the concept of One Percent Realty to flourish.
When a Buyer sees a home that meets their criteria and is their dream home they do not ask "How much commission is being paid here." It's not of concern to the potential Buyer. The Buyer is concerned with number of bedrooms, bathrooms, location, schools, and obviously the price. Our listings are displayed everywhere that all the other listings are. If you are a buyer looking in a given neighbourhood in a given price range (which is basically all of them), then you will want to see every listing in that neighbourhood in your price range. With the Buyer now in the driver's seat as a much more sophisticated consumer the real estate marketplace had changed forever. Basically, the fox is in the hen house.
Because a good product well priced will sell!!
If your home is well kept, and priced accurately, it will sell.
It has no relationship with the amount of commission you pay. With extensive experience in project marketing, we realized that there may be an opportunity to market houses in a similar lower commission higher volume manner. Spending most of their time prospecting for business, the conventional agent requires a higher commission structure to compensate for the lower volume/lower listing success rate in the highly competitive real estate industry. With the help of the technological advances such as the Internet, cell phones and electronic signing, One Percent Realty was able to reduce the typical real estate office overhead as well as leverage the productivity advances of its agents to create a successful discount commission business model. Whereby our agents earn less per house sold they make it up in volume of sales at the end of year. It works great for us, and it works great for our Sellers. We say at One Percent Realty, the more deals we do the more money we are saving our clients!
The Definition of Market Value
"The highest price estimate, in terms of money which a property will bring if exposed for sale in the open market allowing reasonable time to find a buyer who purchases it with knowledge of the uses to which it is adapted and for which it is capable of being used." (As defined by the Courts)
Does it say anything about commission?
The concept behind One Percent Realty East Inc. is that we provide full professional real estate service but a reduced commission. For that full service with an MLS® system listing, we charge $7,950 for homes under $700,000 and for homes over $700,000 we charge 1% plus $950. The '$950' aspect covers the typical disbursement costs to marketing and selling your home. Our agents provide all of the same services as if they would if they were to charge you a higher commission, the only difference being the amount of commission they charge you. Your 1% agent will help you determine the appropriate listing price, list your home on the local real estate board MLS® system and thus your listing will be on the popular realtor.ca where all the buyers look, enter the listing on the onepercentrealty.com website, take interior and exterior digital photos, place a house for sale sign (if applicable), advertise your property where the Buyers are looking, show your home to prospective Buyers, provide you advice and assistance along the way. Our goal, like yours, is to sell your home.
What you save with One Percent Realty
$ 200,000
$ 7,950
$ 10,000
$ 2,050
$ 300,000
$ 7,950
$ 15,000
$ 7,050
$ 400,000
$ 7,950
$ 20,000
$ 12,050
$ 500,000
$ 7,950
$ 25,000
$ 17,050
$ 600,000
$ 7,950
$ 30,000
$ 22,050
$ 700,000
$ 7,950
$ 35,000
$ 27,050
$ 800,000
$ 8,950
$ 40,000
$ 31,050
$ 900,000
$ 9,950
$ 45,000
$ 35,050
$ 1,000,000
$ 10,950
$ 50,000
$ 39,050

*compared with a broker charging 5%, not all brokers charge the same.



What you get with One Percent Realty
Full Exposure on the MLS® system
World Wide Internet Exposure on REALTOR.ca & onepercentrealty.com
Experienced Professional Real Estate Agent
Market Evaluation
Digital Photos
Responding to Consumer & REALTOR® Inquires
Showing the Property to Prospective Buyers
Assisting the Seller in Negotiating Favorable Terms & Conditions with an Offer
Cooperating & Assisting Other Brokerages Working with Buyers
Assisting in the Completion & Possession process
Newspaper Advertising (if applicable)
Open Houses (if applicable)
Signage (if applicable)
Full Service Brokerage at a Fraction of the Cost
Will Other Agents Show My Home
The simple answer is yes. Our MLS® system listings are shown, and sold by cooperating REALTORS® all of the time. Approximately 80% of our listings were sold by Cooperating REALTORS® representing a Buyer. That is proof that our system works!
Why is that? We believe it is for two reasons. Firstly, our listings (under $700,000) typically offer $3,500 commission to Cooperating Brokerages. While $3,500 might not be as much as some other listings, it still is a decent pay cheque for Canadians these days, including many sales professionals. The more important reason other agents cooperate and sell our listings, is because it is the Buyers who are calling the shots these days. As mentioned above, if the Buyer loves the home, the amount of commission being offered will not affect their decision.
Flexibility to offer more commission to the buyer's agent, if you choose
If you still want to offer more commission to the Buyer's agent on MLS® system listings than the $3500 or 0.5% for homes over $700,000 – the choice is yours. We would still only charge you the same low fee for our portion of the commission, and you could offer a Buyer's representative a higher commission of your choice. Since we don't believe offering additional commission is necessary, if One Percent Realty East Inc. sells your home without an outside Buyer representative, we will only charge you our flat fee of $7950 for homes under $700,000 (or 1% + $950 for homes over $700,000).
You Owe it to Yourself & Your Hard Earned Equity
Spending $10,000-$50,000 or more to sell your home is a lot of money. If you are thinking about selling your home call your regular agent that you used last time, but this time also call us to compare our services and commission rates. Being full service agents, our agents provide free no obligation market evaluations just like the other guys. Please don't let someone else tell you about our system, let us tell you exactly what we will do to sell your home. You and your hard earned equity will be glad you did.
One Percent Realty East Inc.*
novascotia@onepercentrealty.com
902-832-SOLD(7653)
"The trademarks REALTOR®, REALTORS® and the REALTOR® logo are controlled by The Canadian Real Estate Association (CREA) and identify real estate professionals who are members of CREA. Used under license."